SOLARA
Illuminating Modern Art. A Gift For William Saroyan's 113th Birthday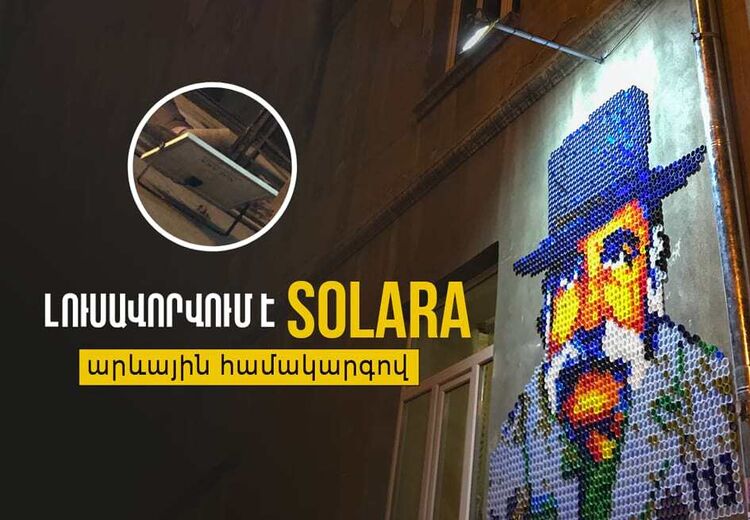 Do you often stroll along the streets of Yerevan? Or maybe you haven't been to Armenia for a long time? Surely, you miss Yerevan at night.
Have you ever noticed the rapid change of the city? There are new buildings, cafes, monuments and appealing street art illustrations appearing every day.
Today we invite our readers to have a little walk at the intersection of Parpetsi and Pushkin Streets. Yes, there is a new street art dedicated to the anniversary of distinguished William Saroyan right here.
The author of the unique gift for Saroyan's 113th birthday is Arman Stepanyan. The portrait of the writer was created from thousands of plastic bottle caps to keep in control waste management in Armenia.
SOLARA always supports the implementation of each project dedicated to the protection of the environment. Since its foundation, spreading the "green" ideology has been one of the company's main goals. Therefore, this time SOLARA has made its "green" contribution to the development of contemporary street art.
The new generation solar LED lamps are used to illuminate William Saroyan's portrait in Yerevan. The solar energy accumulated by SOLARA solar panels ensures constant portrait illumination and the effective operation of high-quality LED lamps. Such lighting not only reduces the load on the grid but also decreases the number of harmful emissions into the atmosphere.
By the way, this is not the first time that SOLARA has sponsored the spread of green culture in Armenia. Not so long ago, another statue created by Arman Stepanyan, Google T-Rex "No internet", was installed in Gulagarak village of Lori region. The statue, being the only one in Armenia, received a great response.