SOLARA
The first statue illuminated by the solar system in Gyulagarak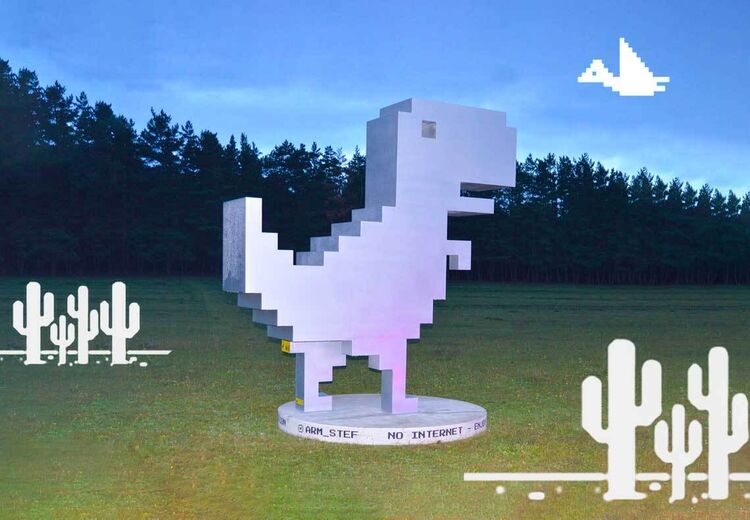 The reasons for visiting the Lori region increased by one. From now on, the residents and guests of Gyulagarak village (towards Stepanavan Dendropark) will be greeted by the Google T-Rex "No internet" dinosaur, a modern statue made of metal.
The author of the idea is designer Arman Stepanyan. The project was realized by Awesome Foundation Yerevan․ It was the winner of the grant. SOLARA company gladly supported the implementation of the project, providing modern lighting of the statue. Lighting is made through solar energy. A solar system (#LASolar panel) is installed near the statue, which ensures the operation of modern LED lights.
Thus, the Google T-Rex "No internet" statue installed in Gyulagarak village is the FIRST in Armenia, which is illuminated by the SOLARA solar system. Speaking about the idea and goals of the statue, Arman Stepanyan emphasizes that being the first of its kind in the world, it will receive a great response. The purpose of the statue is to ensure the lack of internet access in the area and to admire nature. Google T-Rex "No internet" statue is 3.05 meters high and 2.8 meters wide. At night it is illuminated with RGB-colored LED lights.
The new statue of Gyulagarak village inspired by the Google Chrome T-Rex game. It offers guests and residents of the Lori region to enjoy nature, admire the beauty, and spend their free time with friends and relatives without the internet.
SOLARA, as always, is happy and ready to support any project in the sphere of innovative and green culture.