SOLARA
The winners of the "ArmRobotics" 21 are known!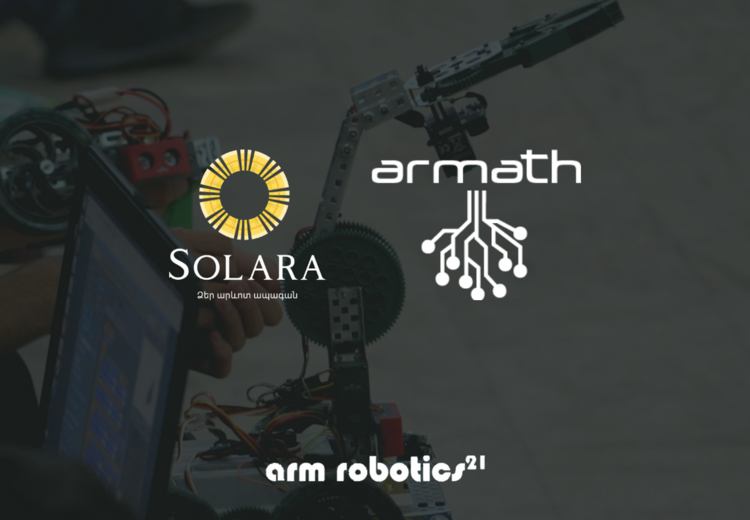 On December 12, the final round of the 13th "ArmRobotics" 21 Self-Managing Robot Championship of Armenia took place in the "Olimpavan" centre.
The 10-18-year-old children presented the automated robots they had made and programmed, which had to overcome 11 tasks.

SOLARA joining the demand for modernization of education and development of the latest technologies, joined the ranks of the "ArmRobotics" championship supporters, preparing an award for one of the winning teams.
The event's aim, implemented within the Armath Engineering Labs Implementation Program framework, is:
- To encourage and publicize interest in robotics, programming and design,
- To create a platform for young people involved in robotics and programming to show their skills and knowledge.

"ArmRobotics" competition was unprecedented in the number of participants this year. 180 teams from all regions of Armenia, Artsakh and Javakhk, applied to participate in the championship, and 45 teams passed to the final stage.
The children competed in 2 age groups: 10-13 years old and 14-18 years old. There were three prize places for each group.

The competition was held this year under the title "Smart City". The competition field is a miniature model of the city, and it is one of the clean cities where automated intelligent systems are used. Child-created self-driving robots must complete the following tasks:
Parking (battery charging)
Crossing with traffic lights
Emptying the bins
Crossing of pedestrian markings
Smoke or gas leak warning signal
Extinguishing the fire
As a result of the competition, the best 6 in each age group were selected from the teams that reached the final. By the decision of the jury, the following teams were recognized as winners and received cash prizes:

10-13age group
1st place: Goris Basic School No. 2, Firefighters
2nd place: Aygut Secondary School, Aygut
3rd place - Gegharkunik Secondary School
14-18 age group
1st place: Gandzak N1 basic school, Gandzak residents
2nd place: Verin Karmiraghbyur secondary school, Armat VKA
3rd place: Etchmiadzin Innovative Ethnic Regional Center

Congratulations to all participants and winning teams!