SOLARA
Representatives of SOLARA met the students of the National Polytechnic University of Armenia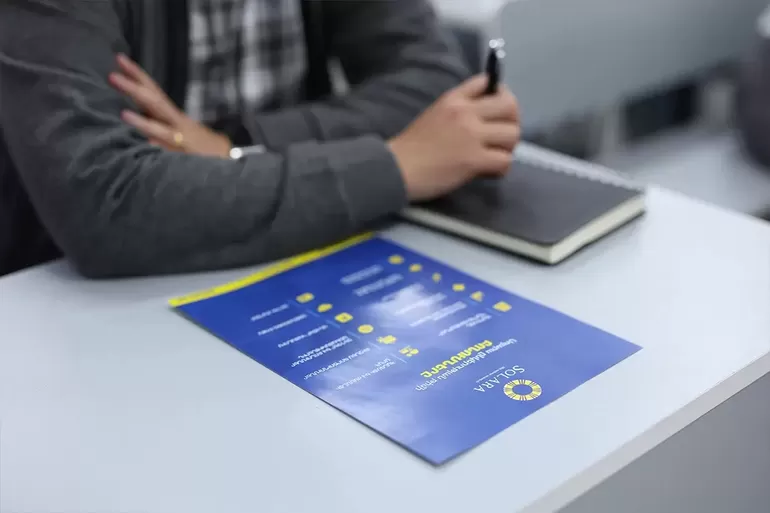 At the initiative of Solara and with the active support of the Career Center of the National Polytechnic University of Armenia, the teaching staff and the students of various courses and faculties learned about the history of foundation of the company, its path, achievements and vision.
Hayk Hakobyan, PR and Media Officer, presented the steps taken and being taken by Solara. He spoke in detail about all the projects realized and under realization.
According to him, one of the main goals of the company is to maximize the use of solar electricity in Armenia. "Our company wants Armenia to become a country with large production volumes," he said. Solar panels with an annual production capacity of 90 MW, marked "Made in Armenia" and produced at the solar panel factory LA SOLAR ARMENIA in the free economic zone Alliance, are consumed not only in Armenia, but also 70% of the products are exported to the USA and Europe.
"As part of our business projects we carry out construction and architectural work SOLARA CONSTRUCTION. The use of electric vehicles is rapidly spreading in Armenia. To recharge them, Solara is realizing the SOLARA EV CHARGER project, within which we have developed attractive business proposals for individuals and organizations. A factory of aluminum and metal-plastic windows and doors FORMAL is able to satisfy the most demanding customer. In 2022, we plan to complete the construction of the aluminum profile factory CONSTAL, which will produce solar panel frames, door and window parts, etc., with a monthly production capacity of up to 800 tons. The opening of the electric car dealership TESLA ENERGY is planned in a few days, where you can not only get a TESLA electric car, but also repair them at the service station and taste the dishes of SOLA eco-cafe," Hayk Hakobyan said.
Hovhannes Avetisyan, head of the engineering department of Solara, presented the work of the divisions and the activities of LA SOLAR GROUP, the company's strategic partner. "LA SOLAR GROUP launched with two employees, which has grown to 180 today and has offices in three major US states - California, Nevada and Texas. It consists of 7 divisions: engineering division, contractual and financial division, permit division, communal division of electric networks, division of coordination of electric networks, division of monitoring and division of customer service, which are capable of successfully solving the tasks assigned to them," Avetisyan noted.
Vladimir Hovhannisyan, head of SOLARA CONSTRUCTION, presented the operations which are performed during installation of stations. He informed the students that they can also take an active part in the development of the solar industry. "Our organization welcomes any initiative that can help develop solar systems. We are ready to listen to any innovative approach aimed at improving this area and we are ready to support," Vladimir Hovhannisyan said.
In conclusion, Anahit Shahbazyan, Head of the Human Resources department of Solara, presented the available vacancies and announced that those who wish can apply.