SOLARA
A LARGE ALUMINUM PRODUCTION FACTORY WILL BE ESTABLISHED IN ARMENIA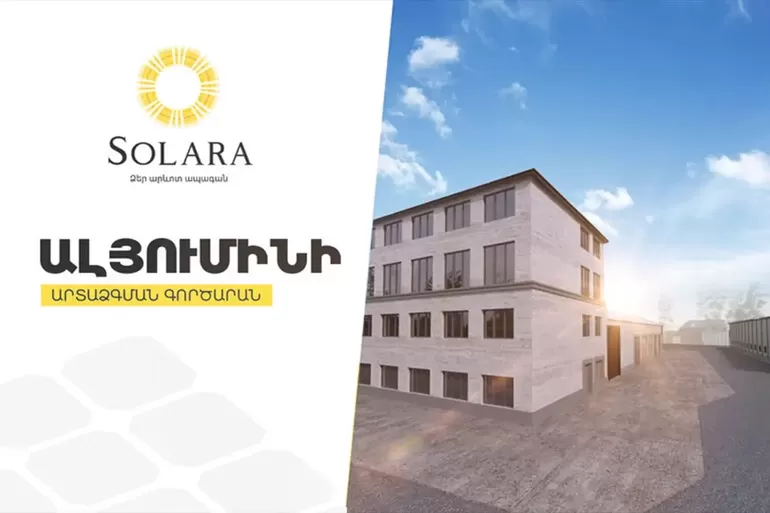 The RA government has approved the application submitted by "Solara" company, taking into account that the company is going to import technological equipment, its components, and additional parts within the framework of the investment program implemented in the priority sector. The government has granted tax relief to the company to purchase equipment and raw materials.
"Solara" company is one of the leading companies operating in the field of solar energy in Armenia, specializing in the installation of solar photovoltaic panels on a private, commercial, and industrial scale.
The company established the aluminum extrusion plant "Konstal" in the territory of the Abovyan community, for which it acquired 23,000 square meters of space to carry out production activities.
The main areas of activity are the production of aluminum frames for solar photovoltaic panels and the production of aluminum structures for the installation of solar plants. The factory will also produce frames for aluminum doors and windows.
According to the general director of the company, Hayk Petrosyan, this decision of the Government is an important incentive to increase the attractiveness of the organization of production in Armenia and to make investments.
"The Government of Armenia has always supported the development of renewable energy and the works carried out in the field. We have repeatedly mentioned that in order to further stabilize the economic growth of Armenia and move forward, it is necessary to direct the vectors of economic development toward the producers. For our part, we have adopted this important direction and will continue to carry out work in that direction. The investment budget for the creation of the aluminum extrusion plant is 15 million dollars, as a result of which we will not only have a stable production but also create around 200 jobs," said the general director of "Solara".
A significant part of the products will be exported to the USA, Europe, and EAEU member countries.
The aluminum extrusion plant is scheduled to open in November 2022 and will operate with a production capacity of 600-800 tons per month.
****
"SOLARA" company was established in 2019. and engages in the installation of solar systems.
The organization is the Armenian strategic partner of the company "LA SOLAR GROUP" established in the USA in 2008, engaged in the installation of solar plants.
"SOLARA" provides comprehensive services in the field of solar energy: design, installation, operation, monitoring, and maintenance of solar plants.