SOLARA
SOLARA solar system on the roof of "Anania Shirakatsi" Lyceum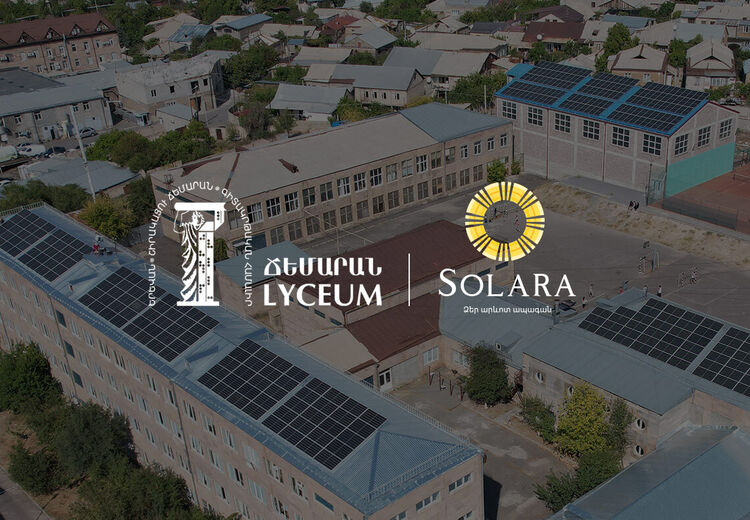 The solar community of SOLARA is expanding day by day. Many individuals, businesses and public education centres are switching to solar energy daily. Considering the number of opportunities provided by solar energy, it has become a widespread and available version of renewable energy in Armenia.
Our next partner, Anania Shirakatsi Lyceum, has joined the Solar journey in Armenia. SOLARA has implemented a complete package of services for the complex. This includes roof reconstruction, solar panel design, installation and operation. Thus, a 150.75 kW SOLARA solar system was installed on the roof of the Lyceum, with an annual capacity of 226125 kWh. 335 Armenian-made LA Solar LS450HC solar panels and 2 Solis 3P 80K inverters were installed to complete the solar system.

By investing solar energy in Anania Shirakatsi Lyceum, we also ensure the reduction of hazardous substances emitted into the environment - more than 97 tons of unreleased carbon dioxide (CO2). Due to the solar energy usage, Anania Shirakatsi Lyceum will save large sums of money, significantly reducing electricity costs. The system will provide annual savings of more than 10 million drams - 10,175,625 AMD.
The vital role of educational complexes in forming a citizen and creating an individual value system is prominent. From this point of view, the use of modern technologies, alternative energy also acquires an educational and cognitive character. The new generation is learning to appreciate and care for nature, use green energy, and try to lead an eco-lifestyle as much as possible.
Adhering to its core goals and values, SOLARA continues to develop steps towards the active use of alternative energy. By spreading the idea of green culture, we encourage individuals and businesses to use solar energy in Yerevan and the regions of the Republic of Armenia.

Combining high-quality equipment, a professional team, the world latest technologies and standards, we offer premium Armenian-made solar panels, provide design, installation and operation of solar systems, as well as 24/7 online monitoring of solar system operation.
By establishing a stable, reliable relationship with each of our clients, we ensure all the implemented projects' long-term and uninterrupted work.